Glasgow Photo Library
- Scottish Exhibition and Conference Centre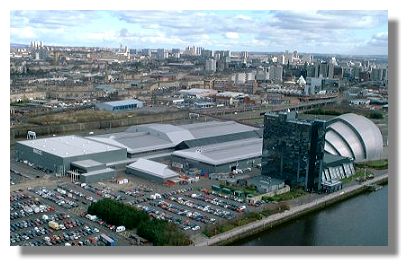 The largest exhibition area in Scotland, the Scottish Exhibition and Conference Centre (SECC) was built in 1984 on the site of the Queen's Dock. The Clydeside Expressway runs along its edge. The individual exhibition halls are linked by a central, glass-covered atrium. International conferences seem to be a speciality but there are varied events ranging from party-political conferences to pop concerts and trade exhibitions plus a circus and carnival every Christmas.

On the right of the picture above is the Clyde auditorium (nicknamed the Armadillo) and the blue glass tower of the Moat House hotel. The picture was taken 340 feet up in the observation platform of the Glasgow Tower which is on the south bank of the Clyde. Since this picture was taken, a pedestrian bridge has been built across the Clyde, linking the two facilities.
Go to the next Glasgow location:

Strathclyde University
Or return to the Glasgow Photo Library Index>.


---
Where else would you like to go in Scotland?