Glasgow Photo Library
- Mitchell Library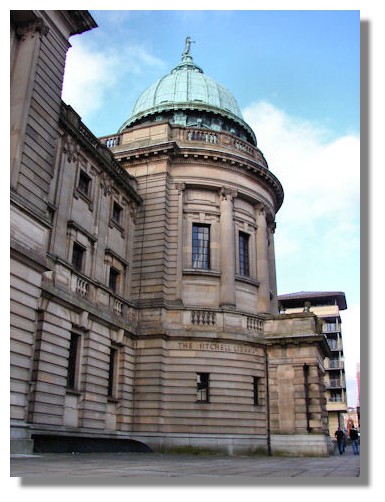 The Mitchell Library is one of the largest public reference libraries in Europe, with 1,213,000 volumes. The original building on North Street with its distinctive copper dome surmounted by the figure of Minerva opened in 1911. The building contains five floors and access to all the facilities is free. The Mitchell Library also holds the Glasgow City Archives and collections which are considered to be one of the world's best resources for researching local family history as well as an important collection of material relating to Robert Burns. The Mitchell Library was established with a bequest from Stephen Mitchell, a wealthy tobacco manufacturer, whose company became one of the constituent members of the Imperial Tobacco Company. The building was designed by architect William B Whitie and underwent a major refurbishment and modernisation in 2005.
Go to the next Glasgow location:

Necropolis
Or return to the Glasgow Photo Library Index>.


---
Where else would you like to go in Scotland?