Glasgow Photo Library
- Necropolis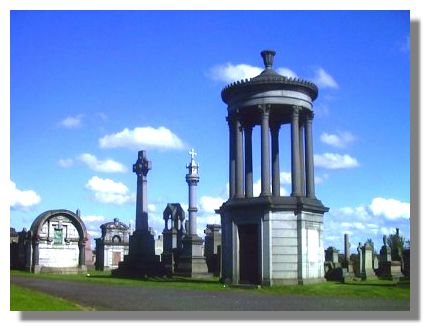 The idea of the Necropolis was based on the famous Père Lachaise cemetery in Paris. It was built on ground above Glasgow Cathedral and is reached from there by the "Bridge of Sighs" across the Molendinar Burn (now covered over).

During the 19th century, many of the merchants and well-to-do people of Glasgow were laid to rest here. But just as they had competed with one another in life, they vied with one another in the creation of ornate memorials and sculptures. Some of the work was designed by many of Glasgow's best architect's, including John Bryce, Charles Wilson (who designed Park Circus - the next page in this photo library), J T Rochead and Alexander "Greek" Thomson - who is buried in an unmarked grave in the Southern Necropolis in the Gorbals area of the city.

There are great views across Glasgow from the high points on the Necropolis and it also a good vantage point for seeing the Cathedral.
Go to the next Glasgow location:

Park Circus
Or return to the Glasgow Photo Library Index>.


---
Where else would you like to go in Scotland?