Glasgow Photo Library
- Hutcheson's Hall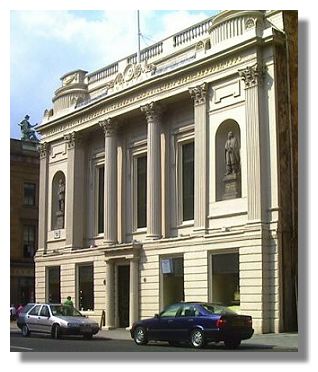 The original Hutcheson's Hospital was founded in 1639-41 by two brothers, George and Thomas Hutcheson, who were both lawyers in Glasgow. The bequest to look after the needs of orphan boys eventually gave rise to the creation of Hutcheson Grammar School, which continues to this day (though as a fee-paying school).

The statues of the two brothers on the front of the present building (erected in Ingram Street in 1802 to a design by David Hamilton) were carved by James Colquhoun in 1655. (Colquhoun also invented the first fire engine in Glasgow).

Inside, Hutcheson's Hall is richly decorated and has become the West of Scotland HQ for the National Trust for Scotland.
Go to the next Glasgow location:

Ibrox Stadium
Or return to the Glasgow Photo Library Index>.


---
Where else would you like to go in Scotland?