Glasgow Photo Library
- St Andrew's Halls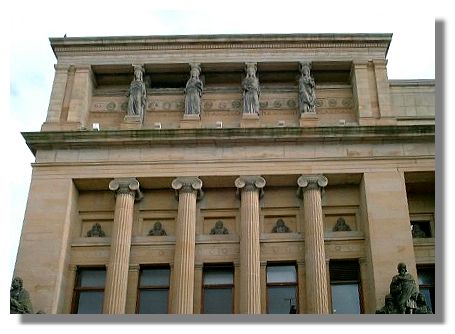 The original St Andrew's Halls were built between 1873 and 1877. As a concert hall, it was reckoned to have acoustics which were as good as any in Britain. It was built by a group of wealthy people who lived in the area and who thought that something more impressive than the City Halls was required.

The halls were destroyed by a disastrous fire in 1962. Although they were later rebuilt, the adjoining Mitchell Library expanded into a substantial part of the space previously occupied by the concert hall and internally the replacement is a shadow of the previous hall. Even so, externally there are plenty of Grecian columns and a substantial amount of caryatids - sculptured female figures as pillars.
Go to the next Glasgow location:

St Enoch Centre
Or return to the Glasgow Photo Library Index>.


---
Where else would you like to go in Scotland?