Glasgow Photo Library
- St Enoch Centre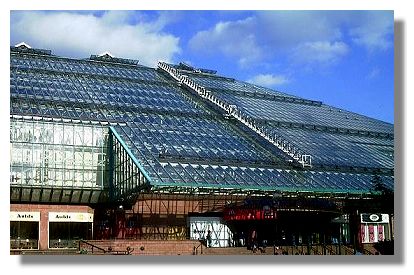 When the railways were king, St Enoch Station was one of the many large main-line termini in Glasgow, serving the trains to the south and west of the city. Following the "rationalisation" of the railway system, it was demolished about 30 years ago and the space served as a car park for many years until the St Enoch Centre was built in the 1980s.

The St Enoch shopping centre was the first of the "mega" shopping malls in the city and is the largest glass-covered enclosed area in Europe. The shops are on two floors - car parking is in seven floors.
Go to the next Glasgow location:

St Enoch Square
Or return to the Glasgow Photo Library Index>.


---
Where else would you like to go in Scotland?