Glasgow Photo Library
- George Square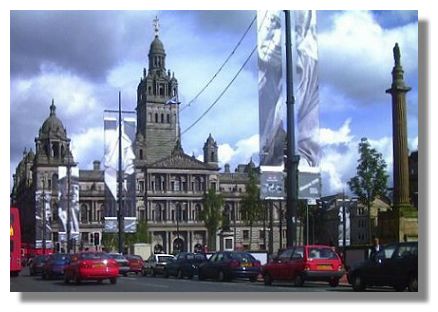 George Square, in what gradually became the centre of the city, was laid out in 1781 in an area of marshland but sheep still grazed on the grass there until well into the 19th century. Later in the century, the City Chambers (seat of local government) and the main Post Office were built round the edge and Queen Street Station was built in the north-west corner.

There are 11 statues scattered around the square. While some, such as Queen Victoria and her consort, Pribce Albert, or Robert Burns and James Watt are well known personages, many are little known. That certainly cannot be said of the tallest statue in the square - Sir Walter Scott stands on the top of his tall column, with his plaid thrown over his left shoulder (as he usually did in life) instead of his right. Conspicuous by his absence is King George III after whom the square is named. The Glasgow tobacco lords were most upset at King George losing their trade with the American colonies!

There used to a lot more of the square covered in grass and trees until the Glasgow City Council decided that they could rent out the space for exhibitions and entertainment - and covered much of the area in red asphalt!
Go to the next Glasgow location: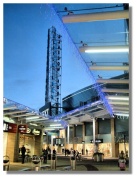 Glasgow Fort
Or return to the Glasgow Photo Library Index>.


---
Where else would you like to go in Scotland?