Glasgow Photo Library
- Glasgow Fort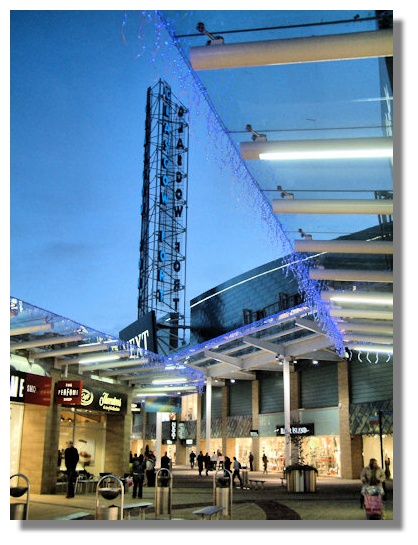 The Easterhouse area of Glasgow used to be a run-down area of the city, full of deprivation, crime and poor amenities. In recent years, much of that has changed. A lot of the subsidised social housing has been demolished or refurbished, new schools and sports centres have been built and private housebuilders have been busy (at least until the recent credit crunch) building smart new detached houses for aspiring families as well as low-rise modern apartment blocks. Perhaps the biggest symbol of the regeneration of the area was the completion of the Glasgow Fort shopping mall in October 2004. When it was proposed, there was an initial resistance to the "Fort" name as it seemed to reinforce the ghetto image that the planners were trying to eradicate.

But the development has been highly successful, drawing in shoppers from a wide area - it is well placed beside the M8 motorway with links not only east and west but also south into Lanarkshire via the link to the M74. It is estimated that 12 million shoppers flock to Glasgow Fort every year from all over the central Scotland belt. Planning approval has been granted to expanding the retail centre from over 70 units with 400,000 square feet (38,000 square metres) to 575,000 square feet (54,000 square metres)- though that is currently being delayed due to financial constraints. The owners of the Glasgow Fort have also been persuaded to donate £10 million towards improvements in the area, including the Provanhall Visitor Centre, new sports facilities and road and pedestrian upgrades.

Built on a 90-acre site, five miles to the east of ther Glasgow city centre, the developers say that instead of the more usual barn-like appearance of most covered retail parks, the new Glasgow Fort is in the form of a "mini-High Street." That has advantages and disadvantages - shoppers are in the open air when moving from one store to another. That's fine in good weather and a projecting awning keeps most of the rain away, though it gets a bit chilly in the winter. It also means that cafés can have seating outside where the law banning smoking inside premises doesn't apply.



Go to the next Glasgow location:

Gorbals
Or return to the Glasgow Photo Library Index>.


---
Where else would you like to go in Scotland?