Glasgow Photo Library
- Doulton Fountain, Glasgow Green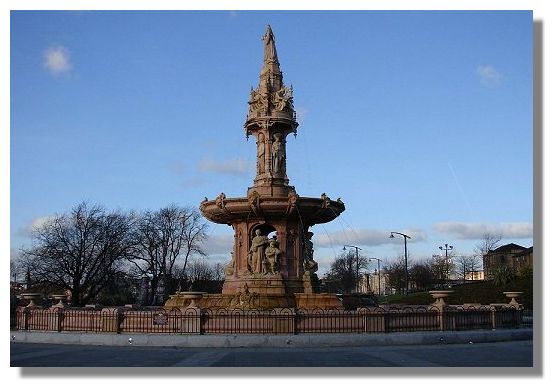 The Doulton Fountain was gifted to the city by Sir Henry Doulton to commemorate Queen Victoria's Golden Jubilee of 1887 and it was first unveiled at the Empire Exhibition held at Kelvingrove Park in 1888. It was then moved to Glasgow Green in 1890. Described as a "sculptural extravaganza" it celebrates Britain's Imperial achievements and is crowded with figurative groups representing Australia, Canada, India and South Africa. There are national flora and fauna (South Africa's full size Ostrich, Australian sheep and Canadian Beaver), plus military and naval figures on all four sides, including a kilted highlander. Other decorations include gargoyles, lion masks, coats of arms and life-size girls pouring water over the figures below. At the apex, is a wonderfully detailed and lifelike statue of the queen empress herself (see also below).





The whole assembly is the largest terracotta fountain in the world, with five tiers, rising 46 feet high and 70 feet across at the base – the third of the width of a football (soccer) pitch. It was largely forgotten (and neglected) on Glasgow Green until the 1990s by which time it was in a sorry state as a result of vandalism - and the fencing which attempted to slow the process of disintegration. Thanks to National Lottery funding and a realisation in the City Council that it had a tourist gem and the best surviving example of its kind on its hands, it was dismantled, restored and relocated to a position outside the People's Palace Museum on Glasgow Green in 2005.

Go to the next Glasgow location: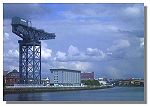 Finnieston Crane
Or return to the Glasgow Photo Library Index>.


---
Where else would you like to go in Scotland?