Glasgow Photo Library
- Finnieston Crane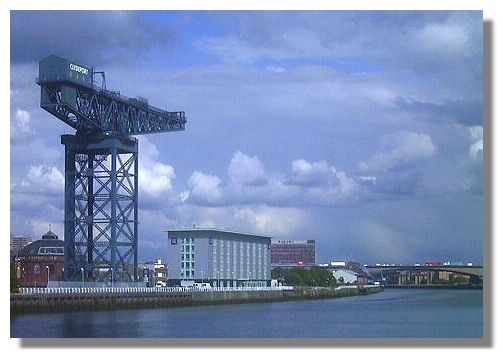 Any scepticism about large vessels in the past sailing into the heart of Glasgow are immediately dispelled by this relic of the days when locomotives and other large engineering products were exported via the docks at Finnieston. The hammer head crane was built in 1932 and was at that time the the largest in Europe.

In those days, Glasgow was the most important manufacturer of locomotives in Europe - they were made in the works in Springburn and transported to the Clyde where they were loaded onto ships for export to all the countries of the world.

In its shadow is the new City Inn and to its left is the "Rotunda". This used to house the lifts to an underground tunnel under the river which opened in 1895. The vehicle lifts closed in 1940 but the 138 steps to the pedestrian tunnel were still accessible until 1980. The building is now a plush restaurant and casino.
Go to the next Glasgow location:

Firefighter's Monument
Or return to the Glasgow Photo Library Index>.


---
Where else would you like to go in Scotland?