Glasgow Photo Library
- Central Station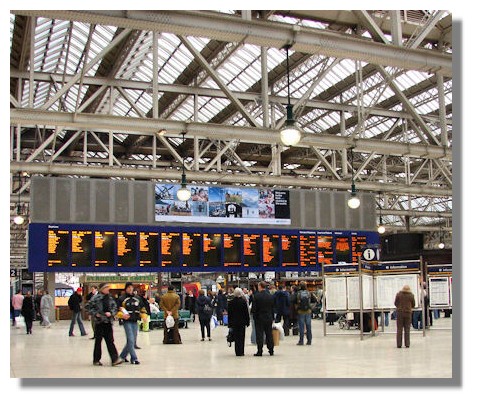 Glasgow Central Station was opened by the Caledonian Railway on 1 August 1879. It was extended further between 1901-1906. It became the main terminus for the West Coast main line to England and London as well as a major train station for suburban trains running to the south of Glasgow and to the Ayrshire coast. There is a Low Level set of platforms which opened in 1896 and was extended between 1899 and 1905. There is a Glasgow Underground Station at this lower level. The Upper Level station has 14 platforms (numbered 1–12 and 14–15). Glasgow Central is the busiest railway station in the United Kingdom outside London. Over 34 million people visit the station each year.

The main concourse shown in the graphic was remodelled in 1985. Train companies using the station include Strathclyde Partneership for Tranport, FirstScotRail, Virgin and National Express East Coast. The station is fronted by the Central Hotel on Gordon Street. A large glass-walled bridge takes the station building over Argyle Street - nicknamed as the "Heilanman's Umbrella" by Glaswegians because it was used as a gathering place for visiting Highlanders, sheltering from the frequent rainfall.
Go to the next Glasgow location:

City Chambers
Or return to the Glasgow Photo Library Index>.


---
Where else would you like to go in Scotland?