Glasgow Photo Library
- City Chambers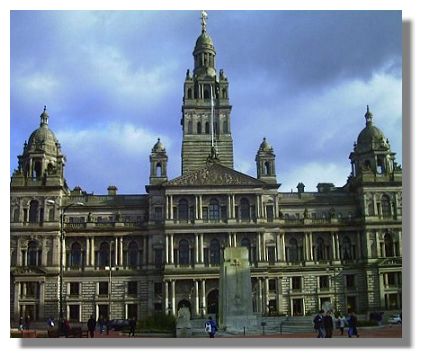 The City Chambers houses the local government for Glasgow. It was opened by Queen Victoria in 1888 on her second visit to the city. When she visited 39 years earlier, she disliked the city and said that she would prefer not to return!

The winner of a design competition, the facade is covered in sculptural groups. The main pediment commemorates the Jubilee Year of Queen Victoria, who sits on her throne with representatives from her Kingdom supporting her.

The inside of the City Chambers is even more impressive and opulent with marble staircases and mosaic ceilings. There are tours of the building each week-day morning and afternoon.
Go to the next Glasgow location:

River Clyde
Or return to the Glasgow Photo Library Index>.


---
Where else would you like to go in Scotland?