Glasgow Photo Library
- Ca' d'Oro Building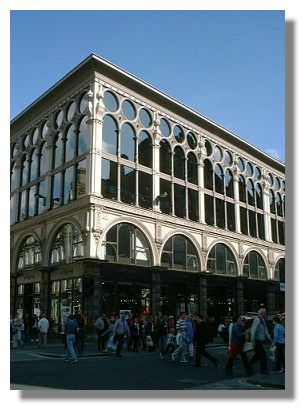 At the corner of Gordon Street and Union Street, this was a Victorian (1872) version of the Golden House in Venice - constructed from triple-arched cast iron frames with with masonry arches above the shops below. It was designed by a well-known Glasgow architect, John Honeyman.

In 1988, there was a major fire in the building but the cast iron frame stood up well to the conflagration. In a way it was of benefit, because the building was restored to its original appearance with additional bays added.
Go to the next Glasgow location:

Caledonian Road Church
Or return to the Glasgow Photo Library Index>.


---
Where else would you like to go in Scotland?