Glasgow Photo Library
- Buttery Restaurant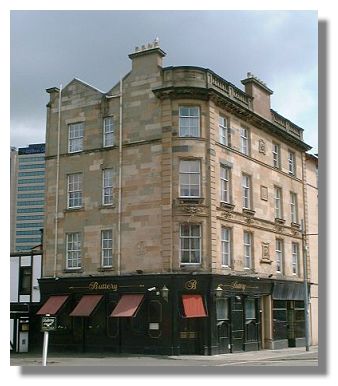 The Buttery, on Argyle Street, has been trading since 1869. It used to be a favourite venue of professional Glaswegians and produced Scottish food which food critics described as "exquisite". When all the old buildings around the Buttery were demolished during Glasgow's post war redevelopment, it was allowed to remain - a testimony of the influence of its clientele.

But, during the recent boom in trendy new restaurants in Glasgow, it remained with its wood-panelled dining rooms and waiters dressed in Victorian garb although the smooth service continued. The food was still good but was not being produced by well-known "named" chefs. And its location has been described as "even Osama bin Laden would say it was off the beaten track." Just short of the Buttery Argyle Street is truncated by the Kingston Bridge so you need a detour to get there. But with its own car park, it is convenient for those who did not mind a short drive to a high class establishment

The restaurant closed in January 2002 but by May it had reopened again under new management - and chef. Early reports are positive.
Go to the next Glasgow location:

Ca' d'Oro Building
Or return to the Glasgow Photo Library Index>.


---
Where else would you like to go in Scotland?