Kings and Queens of Scotland - Part 2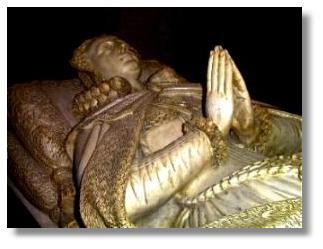 Death Mask of Mary Queen of Scots in the Museum of Scotland, Edinburgh
Introduction

This page covers all the kings and queens of Scotland from Robert the Bruce in 1306 up to the Union of the Parliaments> in 1707 in the reign of Queen Anne. The dates shown beside each entry relates to the years in which they reigned. Part 1> of this feature describes the monarchs from earliest times up to King John. There is also a further page showing a chronology of all the kings and queens of Scotland, England, United Kingdom and France.

Robert I (1306-1329)
Robert the Bruce's grandfather, Robert Bruce of Annandale, who had estates in Huntingdon as well as Scotland, was one of the claimants to the throne of Scotland on the death of Queen Margaret, Maid of Norway, in 1290 (he was a descendant of King Alexander II). On the death of his father, the Earl of Carrick, Robert was reputedly the richest man in England. In 1306, after a quarrel and murdering John Comyn, Robert declared himself King of Scotland. He was crowned at Scone in March 1306 and then began a geurilla war against the English King Edward I. Initially he was not successful but gradually, with increasing support, he captured a number of castles - chivalrously allowing the defenders to return to England. Bruce heavily defeated the English army at Bannockburn in 1314 and defeated King Edward II's invasion in 1322 by a "scorched earth" policy. King Edward III of England eventually agreed to the Treaty of Edinburgh in 1328 which recognised Scotland's independence, ending the 30 years of the Wars of Independence. King Robert was gravely ill by this time and died at Cardross on 7 July 1329. His body was buried at Dunfermline Abbey but, at his request, his heart was taken on a Crusade against the Moors in Spain by James Douglas. It is now buried in Melrose Abbey>.

David II (1329-1371)
David> was Robert the Bruce's only surviving son, born when Bruce was aged 50, and was only five years old when his father died. In 1328 he had married Joan, sister of Edward III of England at the age four (she was seven). He was driven into exile in France by Edward Balliol (son of King John Balliol) who was supported by those who had been disinherited by Robert the Bruce. However, Bruce's grandson, Robert Stewart, upheld his cause in Scotland. David returned from France in 1341, deposing Edward Balliol. In response to an appeal for help from France, King David invaded England in 1346 but was captured at the Battle of Neville's Cross, remaining a prisoner at the English court until the Treaty of Berwick in 1357. David ruled with authority and included burgesses as well as nobles in the Parliament and trade increased during his rule. He married a second time, to Margaret Drummond but died without legitimate issue. He was succeeded by his nephew, Robert II the Steward.

Edward Balliol (1332-1341 but with interruptions)
Son of King John Balliol, the puppet of Edward I of England, Edward Balliol was acknowledged by some Scots as the heir to the throne. Taking advantage of King David II's> minority and the death of the Regent Randolph, Earl of Moray (and tacitly supported by Edward III of England), Edward Balliol sailed into Kinghorn in Fife in 1332 and defeated a Scots army, led by the inexperienced Earl of Mar at the Battle of Dupplin. He was crowned at Scone six weeks later but was deposed by the end of the year. He returned in 1333, was deposed in 1334, restored in 1335 and was finally deposed in 1341 (by which time King David II was 17 years old).

Robert II (1371-1390)
Son of Marjorie Bruce (daughter of King Robert the Bruce) and Walter, the High Steward of Scotland, Robert shared in the Regency during King David's minority spent in France (1333-1341) and again from 1346 to 1357 after David's capture at the Battle of Neville's Cross. He came to the throne at the age of 55 after the death of the childless King David II, thus starting the House of Stewart. King Robert II was in a different mould from King David II and is known to have fathered at least 21 children, 14 legitimately with his two wives. Not much is known about his reign but he appears to have had numerous conflicts with his nobles. Elderly and infirm, he allowed power to pass to his eldest son, Robert III in 1384, six years before his death.

Robert III (1390-1406)
Son of Robert II, King Robert III> was considered illegitimate by the Church due to the too close consanguinity of his parents (though a Papal dispensation had been granted). Robert III was described as 'feeble', 'timid' and 'unfit to rule'. He had been crippled as a result of a riding accident two years before he came to the throne. He had been baptised as 'John' but, in view of the potential confusion with John Balliol and the untimely fates of kings of that name in England and France, he was crowned as Robert III. He had a reputation for kindliness and justice. But his personal qualities and failing health underemined his authority and power was transferred to his brother the Duke of Albany and his eldest son, the Duke of Rothesay. However, Albany imprisoned the Duke of Rothesay in Falkland Palace> where he died of starvation in 1402. The King then sent his younger son, James, to France in 1406 but after he had been captured by pirates off Flamborogh Head, he became a prisoner of the English King Henry IV. King Robert III died some months later.

James I (1406-1437)
During James' captivity in England (see paragraph above), the Duke of Albany (Robert III's brother) and then (in 1420) the Duke's son, Murdoch, acted as Regents. James, 12-years-old when captured, was held in the Tower of London but was given a good education. James was eventually released under the Treaty of London for a sizeable ransom and returned to be crowned King James I at Scone in 1424. James set about establishing his rule (the Regent Murdoch and his two sons were beheaded and the Lord of the Isles was imprisoned for a spell). He renewed the "Auld Alliance" with France but his attempts to dominate the nobility resulted in his murder in Perth in 1437.

James II (1437-1460)
Born in 1430, James II was only seven when he succeeded to the throne. Archibald 5th Earl Douglas became Regent until his death in 1439. The 6th Earl Douglas was dragged to his death in the presence of James during the "Black Dinner" in Edinburgh Castle in 1440. In 1452, James attempted to establish his authority and while trying to persuade the 8th Earl of Douglas to give up support for the Lord of the Isles, James lost his temper and stabbed him - his bodyguard then finished the job. During the ensuing conflict between the Douglas and Stewart supporters, the royal cannons demolished the Douglas strongholds. Later, in 1455, Parliament legislated for the Douglas fortresses to become royal possessions. The Lord of the Isles also succumbed. But in 1460, while inspecting a cannon at the seige of Roxburgh Castle in 1460, the cannon exploded, killing the king.

James III (1460-1488)
The oldest surviving son of King James II, James III> was nine years old when he was crowned at Kelso Abbey on 10 August 1460. A governing council, led by the King's mother, took control and, during a civil war in England, managed to gain control of Berwick on Tweed. James married Margaret the daughter of the King of Denmark in 1469 and began to assert his own power. But in 1482, an English army, supporting the cause of James' brother, Alexander, Duke of Albany, invaded. At this point, a group of Scottish nobles murdered some of the King's favourites and imprisoned the King in Edinburgh castle as the English army advanced to Edinburgh. James survived but following further conflicts with some of the Border families, they encouraged his 15-year-old son to lead a rebellion. The opposing armies, both flying the lion rampant, met at the Battle of Sauchieburn, near Bannockburn on 11 June 1488. King James III was wounded in the battle and was subsequently killed by a man pretending to be a priest.

James IV (1488-1513)
As penance for causing the death of his father, James IV> wore an iron chain round his waist for the rest of his life. He married Margaret Tudor, daughter of Henry VII in 1503. It was as a consequence of this marriage that the "Treaty of Everlasting Peace" was signed between Scotland and England at the time of the marriage- it lasted ten years. James had renewed the "Auld Alliance" with France when King Henry VIII of England had invaded France. James did not need to take action but nevertheless advanced into England. After some minor successes he met an English army at Flodden on September 9 1513. The battle was the heaviest defeat ever experienced by a Scottish army, with the slaughter of the King and the flower of Scottish nobility - at least ten earls, countless lords and an estimated death toll of 10,000 Scots from the Highlands and the Lowlands.

James V (1513-1542)
James V> was 17 months old when he succeeded his father and various regents and nobles governed Scotland until he was 15 years. He was keen to accumulate wealth and married twice, obtaining handsome dowries on each occasion. This was the age when the Reformation was sweeping Europe (and Henry VIII had created the separate Church of England) but James was committed to the Catholic Church. James attempted to subdue the Border families and the Highland clans and while he was successful to a degree, they were conspicuious by their lack of support at time of war. King Henry VIII invaded and the Scottish army was defeated at the Battle of Solway Moss on November 24 1542, with many of the Borderers surrendering without a fight and even delivering his nobles to the English. James returned to Linlithgow and Falkland Palaces, depressed and defeated. He died on 14 December 1542 at the age of 30, six days after his daughter, Mary, was born.

Mary, Queen of Scots (1542-1567)
Under the guardianship of the 2nd Earl of Arran, the infant Mary> was betrothed to the son of King Henry VIII of England. However, a pro-Fench and Catholic faction led by Mary's mother, Mary of Guise, gained the ascendancy and the agreement was overturned. King Henry VIII sent an army into Scotland to enforce the marriage in what became known as the "Rough Wooing". Mary was sent for safety to France where she married the Dauphin, the heir to the French crown, in 1558. She became Queen of France and Scotland in 1559 but her husband, King Francis II, died in 1560. Mary returned to Scotland despite the Protestant faith gaining the ascendancy. During Mary's reign she was attacked for her Catholic beliefs by the religious reformer John Knox>. Mary married her first cousin, Henry Stewart, Lord Darnley, after a whirlwind courtship, in July 1565. The future James VI> was born in June 1566. Darnley was murdered in 1567 and the Earl of Bothwell was accused but acqitted of the crime. A few months later Mary and Bothwell were married. Scandalised nobles imprisoned Mary in Loch Leven Castle and she was forced to abdicate in favour of her son, James VI. Mary escaped from Loch Leven in May 1568 but was defeated at the Battle of Langside on 13 May. She escaped to England but was imprisoned by Queen Elizabeth I of England. A focus for Catholic plots, she was beheaded at Fotheringay Castle on 18 February 1587.

James VI (1569-1625)
Son of Mary Queen of Scots and Lord Darnley, James VI> was proclaimed king at the age of one, following the enforced abdication of his mother. Like his grandfather, James V, the young King became hostage to various factions and saw a number of regents being murdered. He escaped at the age of 14 and asserted his own authority (including the execution of his recent captors, the Ruthvens). James was not in favour of the Protestants (who believed the King was "God's sillie vassal"), preferring the Catholic faith. His ambition to become King of England as well as Scotland meant that he did nothing to mitigate the fate of his mother and in 1603, with the death of Queen Elizabeth I of England, the "Union of the Crowns" took place. He immediately travelled to London (returning to Scotland only once). He established Protestant Scots and English in Ulster (thus creating the origins of the Irish sectarian conflicts) and colonies in Virginia in North America and commissioned an authorised version of the Bible.

Charles I (1625-1649)
When Charles> was born in 1600 no-one knew that he would be the last king born in Scotland. He was a frail, sickly child, unlike his eler brother Henry, Prince of Wales. But Henry died in 1616 and Charles I was crowned in 1625. Charles believed in the "Divine Right of Kings" which led him into conflict with Parliament both in Westminster and Scotland. In Scotland the meddling of the king in church affairs led to the signing of the Covenant> in 1638 and a call to arms. The English Parliament and the Scottish Presbyterians were both at loggerheads with the king and civil war broke out. The Marquis of Montrose carried out a brilliant campaign on behalf of the King in Scotland but with his cause lost in England, Charles surrendered to the Scottish army in 1646. He was subsequently handed over to the English Parliament and in 1649 he was executed.

Charles II (1649-1685)
Charles (and his younger brother James) were present at the Battle of Edgehill in 1645 when their father was defeated by Cromwell and the Roundheads. After exile in France, Charles returned to Scotland in 1650. Since Charles II> was crowned at Scone on 1 January 1651, ten years before he was crowned in London, there was hardly an interregnum in Scotland. However, he marched into England and was defeated at the Battle of Worcester later in 1651 and fled to France and then Holland. The puritanical government of Oliver Cromwell eventually led to the Parliament at Westminster restoring the monarchy. However, Charles never returned to Scotland in the following 25 years.

James VII (1685-1689)
Second son of Charles I, James VII had advanced to be High Admiral of the Spanish fleet when the restoration of his brother, Charles II made him commander of the English fleet instead, as Duke of York. In 1664 James became governor of the American territory which had been controlled by the Dutch. New York was renamed in his honour. James, at that time a Protestant, introduced religious tolerance to the colonies which has survived to this day. Although he was converted to Catholicism in 1668, when he succeeded to the crown in 1685, at the age of 51, he promised to support the Church of England. Nevertheless, he savagely suppressed a revolt by the Duke of Monmouth and appointed Catholics in positions of influence. In 1688 his wife gave birth to James Francis Edward Stewart (the Old Pretender) but later in the year the Dutch Prince William of Orange (married to James' Protestant daughter, Mary) landed with an army and James fled to France (dropping the Great Seal of England into the River Thames on the way). James attempted an invasion in Ireland in 1689 but after a bloody campaign was defeated by William of Orange at the Battle of the Boyne. James' Jacobite supporters in Scotland were initially successful at the Battle of Killiecrankie on 27 July 1689 but were defeated later in the year at Battle of Dunkeld and in 1690 at the Battle of Cromdale.

William and Mary (1689-1702)
Daughter of James VII and a Protestant, Mary married her cousin, the Dutch Prince William of Orange, Stadtholder of the Netherlands, in 1677 at the age of 15. Prince William had become a Protestant champion as a result of his resistance to Louis XIV of France. Despite William's preference for male company and lack of children, William & Mary worked successfully together. She insisted on William being regarded as King rather than consort and William reconciled Mary with her younger sister Anne. As noted in the section above, King William defeated an attempted rebellion by James VII in Ulster in 1690. When Mary died in 1694, William continued as monarch until his death in 1702.

Anne (1702-1714)
James VII's second daughter, Queen Anne was regarded as an amiable if not very bright individual who carried out her duties as required. She had 18 pregnancies, many of which miscarried or did not survive infancy - the oldest lasted to age 11. She suffered from gout (and could not walk on her coronation, aged 37). It was during her reign that the Act of Union>, uniting the Parliaments of Scotland and England was passed in 1707. In order to ensure succession of a Protestant monarch, the Act of Succession was passed in 1701, appointing the Electress Sophia of Hanover, grand-daughter of James VI. Her son George, Elector of Hanover, became King George I in 1714.
---
Where else would you like to go in Scotland?