Edinburgh Photo Library
- Tron Kirk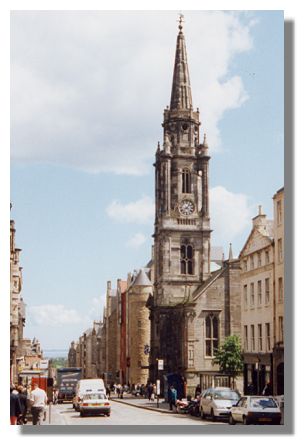 On the junction of High Street with South Bridge, at Hunter Square, the Tron Kirk gets its name from the salt-tron, a public weighing beam which used to be located outside the church. It was founded in 1637 by King Charles I to house the congregation displaced from St Giles when he made that church a cathedral. It originally had a wooden spire but that burned down in 1824 and was replaced in stone a few years later.

The Tron Kirk closed as a church in 1952 and the building now houses an exhibition on the history of the Royal Mile. This is enhanced by the remains of the 16th century Marlin's Wind which were excavated in 1974 and have been left visible within the building.
Return to the Edinburgh Photo Library Index>
or go to the next Edinburgh location:

Usher Hall.


---
Where else would you like to go in Scotland?