Edinburgh Photo Library
- Traverse Theatre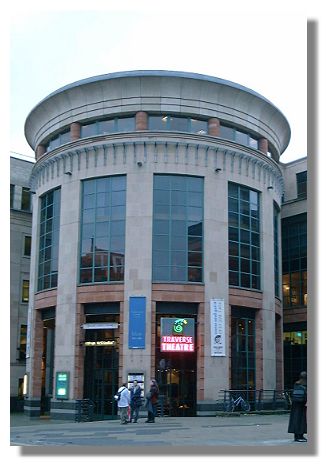 Over the years, Edinburgh has gained quite a reputation for having empty holes in the ground and long debates as to what to build in them. A site beside the Usher Hall was one of these. Eventually, the Traverse Theatre was built to provide a permanent home for Scotland's first and best-known studio theatre companies.

The Traverse Theatre Company was founded to allow the experimental productions of the Edinburgh Festival to be performed throughout the year. It began in 1963 in premises on the Royal Mile (which had previously been used as a brothel!). Initially it was established as a club and so got round the censorship laws which prevailed at that time. It rapidly became the most important forum for new work in Scotland.

After many years of financial difficulties (never over for any arts organisation) it is now located in this spanking new building. The circular form of the entrance pays homage to the design of its longer established neighbour, the Usher Hall.
Return to the Edinburgh Photo Library Index>
or go to the next Edinburgh location:

Tron Kirk.


---
Where else would you like to go in Scotland?