Edinburgh Photo Library
- Stewart Dugald Memorial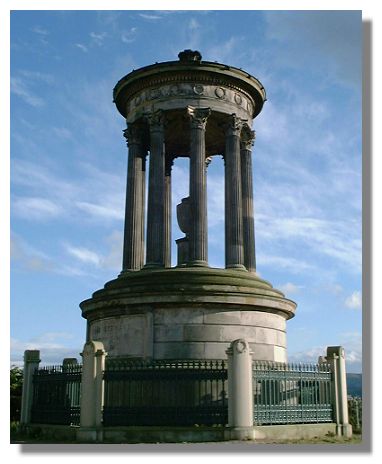 Looking up to Calton Hill from Princes Street, the main shopping street in Edinburgh, one of the most prominent buildings on the top of the hill is a circular Corinthian monument. But most local residents would find difficulty in telling you the name of the man who has been honoured in this way, far less what he was famous for.

Dugald Stewart (1753-1828) was a son of the Professor of Mathematics at Edinburgh University. From 1775, father and son held the Professorship jointly. Dugald Stewart went on to become the university's Profesor of Moral Philosophy. His well written books on philosophy made him one of the leaders in the field and it is this which gave him such fame as he has. He also taught Walter Scott and James Mill, among many others.

The monument to him on Calton Hill was designed by Sir William Playfair and was built in 1831. It is modelled on one erected by Lysicrates in Athens in the 4th century. Its beauty made it a model for later classical architects.
Return to the Edinburgh Photo Library Index>
or go to the next location:

Tolbooth at Canongate.


---
Where else would you like to go in Scotland?