Edinburgh Photo Library
- Lady Stair's Close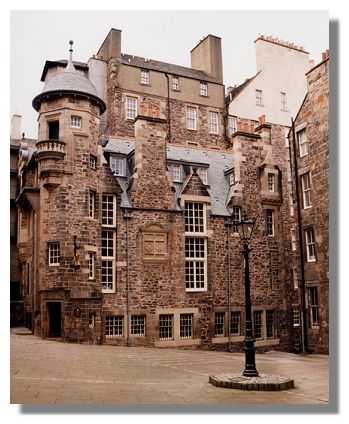 There are many "closes" or alleyways running off the Royal Mile in Edinburgh. They often contain substantial houses, such as this one which was built in 1622 for a William Grey of Pittendrum who had the words "Feare The Lord and Depart From Evil" carved above the door along with his initials and those of his wife. William Grey installed an early form of burglar defence in his house - the height of each of the main steps is uneven, making it difficult to run up and down them!

The building was later bought by Lady Stair in 1719 and the building now bears her name. The exterior of the building was much modified in the 19th century with a balconied tower and other stonework being added. The building is now occupied by a "Writers' Museum" dedicated to Robert Burns (who stayed in a house opposite during his first visit to Edinburgh in 1786), Sir Walter Scott and Robert Louis Stevenson.
Return to the Edinburgh Photo Library Index>
or go to the next Edinburgh location:

Last Drop Bar.


---
Where else would you like to go in Scotland?