Edinburgh Photo Library
- Last Drop Bar, Grassmarket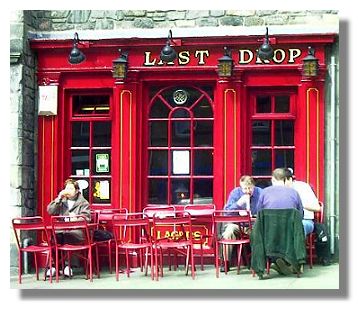 The Grassmarket area of Edinburgh nestles below Edinburgh Castle (there is a stairway which runs from the castle esplanade down to the Grassmarket). As the name implies, it used to be where Lothian farmers brought their hay and other produce for sale. But it was also the location of one of the main gallows in the city and crowds would flock to see the public executions. There is a memorial in the Grassmarket to the Protestant martyrs who were executed by King Charles II and James VII (who were trying to bring back Catholicism).

Although there are no longer any hangings in the Grassmarket, it became infamous later for its tawdry bars and drunken patrons. Commercialism and tourism has got rid of that, and bars such as the "Last Drop" (commemorating the "last drop" of the gallows) are frequented by Edinburgh business men and women as well as tourists.
Return to the Edinburgh Photo Library Index>
or go to the next Edinburgh location:

Lincoln Memorial.


---
Where else would you like to go in Scotland?