Edinburgh Photo Library
- Princes Street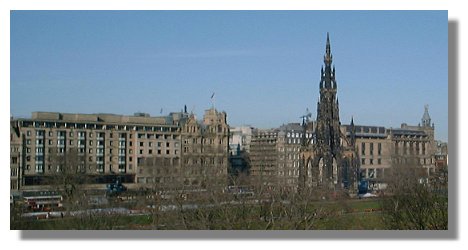 Princes Street was part of the "New Town" of Edinburgh. It was built in the latter half of the 18th century during the reign of the Hanoverian King George III. Originally, George Street (parallel to Princes Street, but further to the north) was to be the main thoroughfare. Princes Street was named after King George's sons - but only after the King had objected to the original proposal - St Giles Street, after the patron saint of the city.

Nowadays, Princes Street is the most popular shopping area in Edinburgh, despite (or because of?) having shops on only one side of the street. On the south side are Princes Street Gardens, which fill up with office workers at lunch time if the sun comes out.

The building looking like a fairy-tale castle is a monument to Sir Walter Scott.

See also Places to Visit - Princes Street> for more information and illustrations.
Return to the Edinburgh Photo Library Index>
or go to the next Edinburgh location:

Princes Street Gardens.


---
Where else would you like to go in Scotland?