Edinburgh Photo Library
- Princes Street Gardens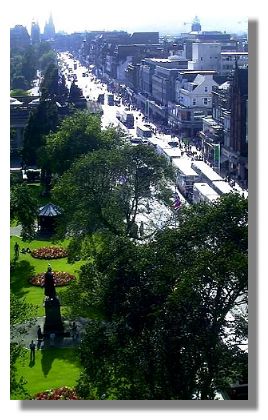 Interrupted only by the Royal Scottish Academy and the Scott Monument, the Gardens on the south side of Princes Street stretch the full length of the road. In addition to the many flower beds, there is the Floral Clock (in summertime) numerous statues, a fountain and the Ross Bandstand.

Roses are in abundance in the gardens, particularly on the south-facing banking beside the street. Another planr to look out for is the large woolly thistle beneath the statue of the mounted soldier of the Royal Scots Greys Regiment.
Return to the Edinburgh Photo Library Index>
or go to the next Edinburgh location:

Ramsay Garden.


---
Where else would you like to go in Scotland?