Edinburgh Photo Library
- New Parliament Building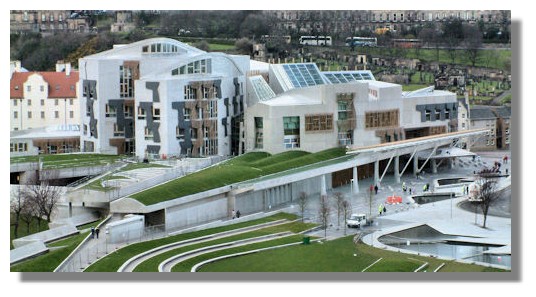 A design competition was held to select the architect for the new Scottish Parliament building on a site (formerly a brewery) across the road from the Palace of Holyroodhouse. Enric Miralles from Spain, working in conjunction with RMJM of Edinburgh was appointed. A feature of the Miralles' original design was the shape of upturned boats on the roof of the building. At the insistence of Historic Scotland, Queensberry House has been retained as part of the development. This was originally built as a mansion house in 1651 and was later owned by Lord Queensberry.

Initial, unrealistic cost estimates escalated and the new Scottish Parliament building opened for business on the 7 September 2004, three years late. The building was not fully operational by the time of the second election for Scottish Members of Parliament - in May 2003. The estimated final cost was £431 million.

An inquiry by Lord Fraser reported in September 2004that the choice of the construction management procurement route was the main factor in the substantial increase in estimated costs, establishing that a £270 million value building ended up costing £431 million.

Views on the architectural merit of the building have been mixed, to say the least. There's a complex range of architechtural features competing with one another and the materials such as bamboo over the windows of the rooms occupied by the Members of the Scottish Parliament (see graphic) seems an odd choice for an iconic Scottish building.
Return to the Edinburgh Photo Library Index>
or go to the next location:

Stewart Dugald Memorial.


---
Where else would you like to go in Scotland?