Edinburgh Photo Library
- New St Andrew House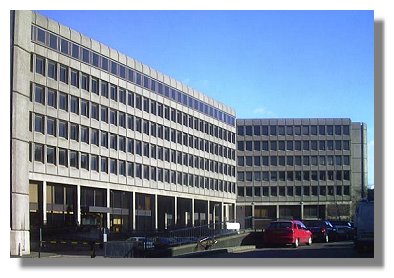 New St Andrew House and the adjoining St James Centre were built in the 1960s, using concrete instead of stone. The stone of St James's Square which was removed, was used as infill for the Craigleith Quarry (where it had come from in the first place). The building dominates the skyline of Edinburgh from many view-points. The brutal, modern, angular design is regarded by many as a monstrosity. It certainly stands out like a sore thumb amongst Edinburgh's historic and elegant buildings.

New St Andrew House used to be full of Scottish Office civil servants. But they are now in a fancy new building overlooking the waterfront at Leith.
Return to the Edinburgh Photo Library Index>
or go to the next Edinburgh location:

Observatory.


---
Where else would you like to go in Scotland?