Edinburgh Photo Library
- National Monument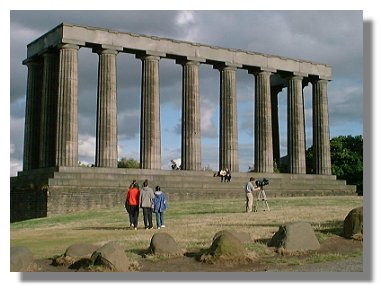 Dominating Calton Hill, east of Princes Street, the National Monument was intended to be a memorial to those who died in the Napoleonic Wars. It was designed by an eminent expert on Grecian architecture, C R Cockrell, assisted by a young William Playfair who was to go on to complete even more successful works.

The foundations were laid during the visit of King George IV to Edinburgh in 1824. But work came to an end in 1829 when the money which had been provided by public subscription ran out - due in part to the ambitious scale of the monument. While it has been suggested that the architect had deliberately designed only the 12 columns, it was later to be described as "Scotland's shame". Even so, the prominent Grecian columns of this and other buildings in Edinburgh has led to Edinburgh being described as the "Athens of the North".
Return to the Edinburgh Photo Library Index>
or go to the next Edinburgh location:

National Portrait Gallery.


---
Where else would you like to go in Scotland?