Edinburgh Photo Library
- National Portrait Gallery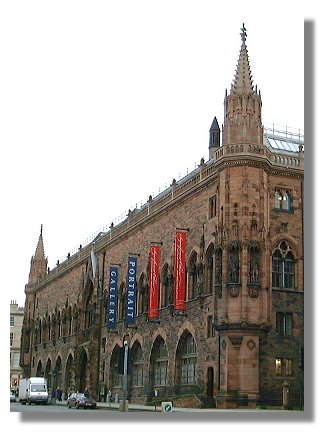 This Gothic edifice stands on Queen Street in the centre of Edinburgh. The building was designed by Sir Robert Rowan Anderson with all the embellishments you would expect from a late Victorian architect. The Gallery moved there in 1889 and has been compared, appropriately enough, to a great shrine. On the exterior, it is decorated with life-size sculptures.

Inside can be found paintings, sculptures and photographs of all the famous Scots of history - and also many of the lesser known and "ordinary" people of Scotland. That is particularly true of the National Collection of Photography, part of which is on display in the gallery.

See also Places to Visit - National Portrait Gallery > for more information and illustrations.
Return to the Edinburgh Photo Library Index>
or go to the next location:

National War Memorial.


---
Where else would you like to go in Scotland?