Edinburgh Photo Library
- Lothian Buses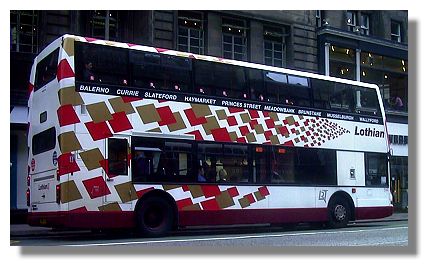 Traditionally, the colour sceme of the local Edinburgh buses was a douce maroon and cream. The citizens of Edinburgh were somewhat bemused when these bright patterned squares appeared on their buses in 2000. The head of Lothian Buses later revealed that the design is based on a Versace dress worn by the actress Liz Hurley. The random collection of squares was inspired by a chainmail dress worn by the Hollywood star in the days when she attended premieres with Hugh Grant. At least that is how the bus chief executive justifies having a photo of Miss Hurley displayed on his office wall. And hopefully Miss Hurley will not mind looking like the back of a bus?
Return to the Edinburgh Photo Library Index>
or go to the next Edinburgh location:

McEwan Hall.


---
Where else would you like to go in Scotland?