Edinburgh Photo Library
-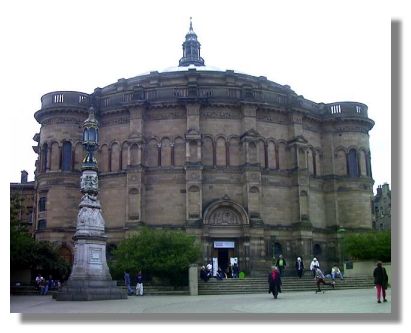 Having made their fortune from the city, brewing families such as Usher and McEwan seemed to feel that they wanted to give something back to the city (or they wanted their names to be remembered by future generations).

The building with its ornate, Italian exterior and interior full of imposing balustrades and balconies, was designed by Sir R Rowland Anderson. But like the Usher Hall, it took a long time from design to completion -in the case of the McEwan Hall, 23 years!

The hall provides an imposing backdrop for the graduands as they line up to receive their scrolls, marking the successful end to their years of labour.
Return to the Edinburgh Photo Library Index>
or go to the next Edinburgh location:

Mercat Cross.


---
Where else would you like to go in Scotland?