Edinburgh Photo Library
- John Knox Statue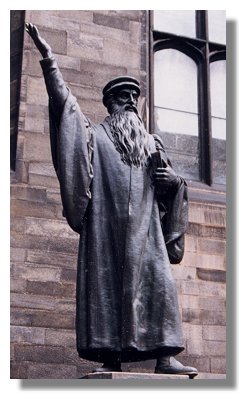 John Knox and the reformation of the church which he spearheaded in the 16th century, have been tremendous influences on Scotland. There are monuments across Scotland to this famous preacher, who had many arguments with Mary Queen of Scots. She remained a staunch Catholic all her life, despite this being a contributory factor to the loss of her throne.

This particular statue to John Knox, with his arm flung high in the air in typical declamatory style, is in the courtyard leading to the temporary home of the new Scottish Parliament. Which is not perhaps surprising as the building was at one time the Assembly Halls of the Free Church of Scotland.

See also Famous Scots - John Knox> for more information.
Return to the Edinburgh Photo Library Index>
or go to the next Edinburgh location:

Lady Stair's Close.


---
Where else would you like to go in Scotland?