Edinburgh Photo Library
- Jenners Department Store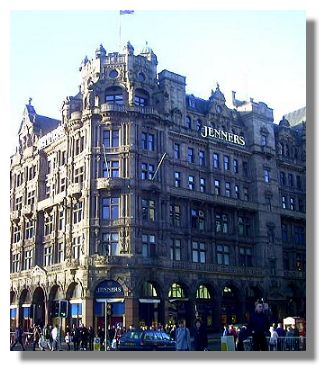 Jenners on Princes Street is not just a large department store, it is an Edinburgh institution - the Harrods of Edinburgh. The rambling building is a delight to wander through and you will see not only the goods on display but many of the formidable Edinburgh ladies who often gravitate to the tearoom overlooking Princes Street. The staff in Jenners are of the "old school" - full of gentle courtesy and service.
The exterior of the late 19th century building is encrusted with ornate carved stonework, in the elaborate fashion of the late Victorians.

See also Princes Street - Shopping> for more information and illustrations.
Return to the Edinburgh Photo Library Index>
or go to the next Edinburgh location:

John Knox House.


---
Where else would you like to go in Scotland?