Edinburgh Photo Library
- Donaldson's School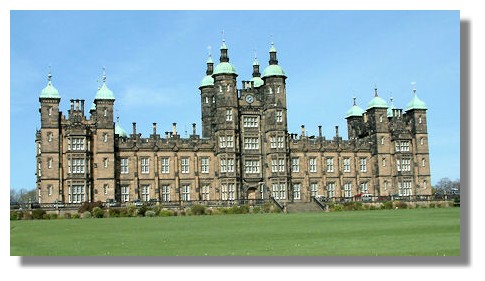 Donaldson's School for the Deaf was built in 1851. The 1838 design competition for the school had specified an "Elizabethan" style. Architect William Henry Playfair confided that the Chapel had emerged like a Baronial hall fit to receive King Henry VIII and Ann Boleyn. The quadrangular building with square towers, octaganal turrets impressed Queen Victoria when she opened it in 1850, describing it as grander than many of her palaces. In 2008 the school finally closed its doors and moved to a modern, custom-built campus in Linlithgow. The distinctive, architectural masterpiece is being converted to apartments. The exterior of the building, which currently has 264 rooms, will be preserved and the spectacular front lawn will be retained, maintaining the views of the building from the main road. But a further 73 futuristic looking homes, in a crescent shape, are to be built elsewhere in the grounds of the former college.

Return to the Edinburgh Photo Library Index>
or go to the next Edinburgh location:

Dynamic Earth.


---
Where else would you like to go in Scotland?