Edinburgh Photo Library
- Our Dynamic Earth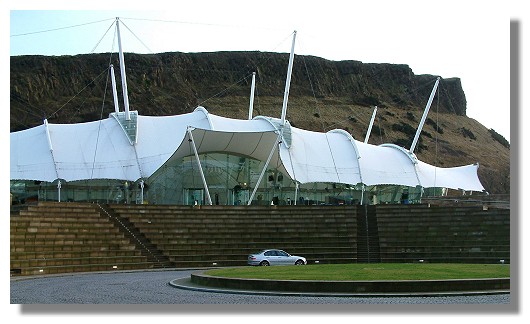 This visitor attraction has a "time machine" that whisks you from the time of the "Big Bang" and the formation of the universe, through 4,500 years of planet earth. You will be shaken by earthquakes, chill in the ice ages and see tropical rainstorms; travel to the depths of the oceans and fly high above towering glaciers and mountains. You will see, hear, feel and smell the planet as it was millions of years ago and how it might be in the future with a myriad of interactive exhibits and the very latest interpretative technology and special effects.

The futuristic Our Dynamic Earth building nestles below the Salisbury Crags and Arthur's Seat - and across the road from the new Scottish Parliament Building on Holyrood Road.
Return to the Edinburgh Photo Library Index>
or go to the next Edinburgh location:

Edinburgh Castle.


---
Where else would you like to go in Scotland?