Edinburgh Photo Library
- St Cuthbert's Kirk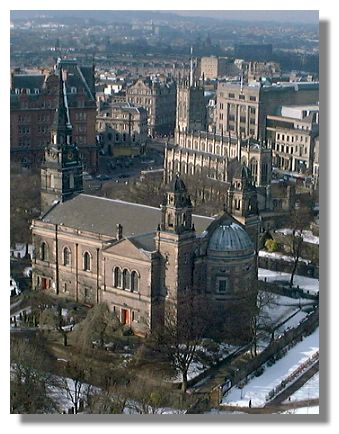 st Cuthbert's is at the west end of Princes Street Gardens and was built on a site of an 8th century Culdee building. It may have been founded by King Malcolm III known as 'Canmore' and his wife Margaret. When the present building was erected in 1892-4 the remains of at least six previous churches were found. Some of the earlier churches had been pressed into service during the many sieges on the nearby castle.

The opulent baroque design reflected the increasing wealth of the city towards the end of the 19th century. Its Georgian steeple was from an earlier church, built in 1789. The building behind is St John's Episcopal Church which was partly modelled on St George's Chapel, Windsor. It has some of the finest stained glass windows in Scotland.

The picture above was taken in winter, from Edinburgh castle, after a fall of snow.
Return to the Edinburgh Photo Library Index>
or go to the next Edinburgh location:

St Giles.


---
Where else would you like to go in Scotland?