Edinburgh Photo Library
- St Giles Cathedral, High Kirk of Edinburgh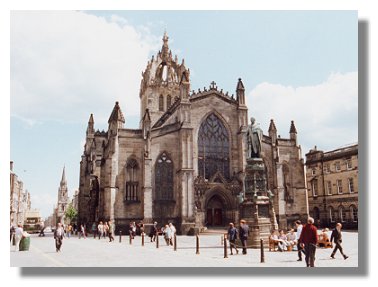 Named after the patron saint of lepers, St Giles has had a long and varied history. There has been a church on this site since 854 although the oldest parts of the present building date back "only" to 1120. The church was burnt down by the English in 1385. Thereafter, it was rebuilt, enlarged and adapted over the centuries. The distinctive crown spire was raised in 1495.

In 1637, King Charles I set up a new diocese in Edinburgh and made St Giles a cathedral. He also attempted to re-introduce the Episcopalian mass which led to a riot in St Giles (and Jenny Geddes supposedly threw her stool with the words "Don't thou say Mass in ma lug").

See also Places to Visit - St Giles > for more information and illustrations.
Return to the Edinburgh Photo Library Index>
or go to the next Edinburgh location:

St Margaret's Chapel.


---
Where else would you like to go in Scotland?