Edinburgh Photo Library
- Canongate Church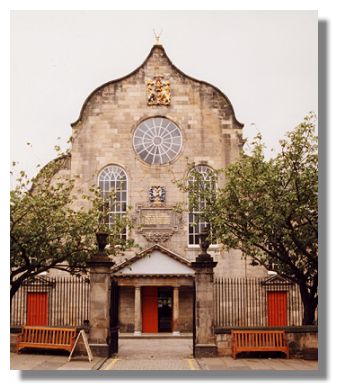 Canongate on the Royal Mile (from the castle to the Palace of Holyroodhouse) was one of the main entrances to the old city. The residents of Canongate originally worshiped at Holyrood Abbey (inside the city walls) but Canongate Church was built for them in 1588 (outside of the walls) - by King James Vl after he turned Holyrood into a Chapel Royal for use by the Knights of the Thistle. The Edinburgh mob (the earliest form of democracy in the city) reacted by destroying the Thistle Chapel.
The churchyard is as interesting as the church - with the graves of many of Edinburgh's celebrities - including a headstone to the poet Robert Fergusson which was paid for by Robert Burns and has an inscription by the bard.
Return to the Edinburgh Photo Library Index>
or go to the next Edinburgh location:

Charlotte Square.


---
Where else would you like to go in Scotland?