Edinburgh Photo Library
- Charlotte Square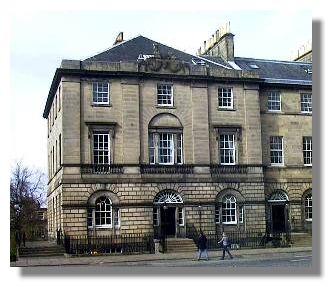 When Edinburgh outgrew its walled city, it was decided to build a "New Town" to the north. Charlotte Square and St Andrew Square were at the two ends of a new thoroughfare, George Street (named after King George III).
Charlotte Square has retained its elegant, old buildings on all four sides, thanks in part to the National Trust for Scotland (St Andrew Square was not so lucky). The Edinburgh residence of the Scottish Parliament's First Minister is in Charlotte Square and meetings of the Executive (cabinet) are held there.
Charlotte Square used to house many of the finance houses which made Edinburgh famous. They have moved to larger, more technology friendly offices, but the foundations laid in Charlotte Square (and the banks and insurance companies in St Andrew Square and The Mound) have made Edinburgh a major European financial centre.
Return to the Edinburgh Photo Library Index>
or go to the next Edinburgh location:

City Chambers.


---
Where else would you like to go in Scotland?