Edinburgh Photo Library
- Caledonian Hotel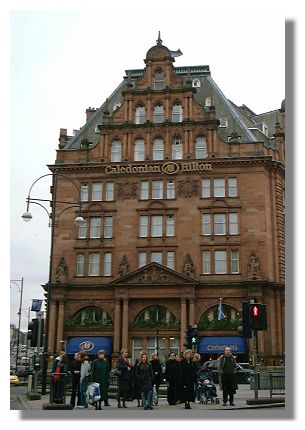 Like the Balmoral Hotel at the other end of Princes Street, the "Caley" was built by one of the railway companies, in this case the Caledonian Railway. The station and railway lines have long gone (though part of the walls of the former booking office are built into the "Carriages" restuarant. The Dutch baroque architecture is unusual for Edinburgh - there is a story that it was designed in Glasgow, transported by train to Edinburgh and burst out of the tunnel looking like this!
Return to the Edinburgh Photo Library Index>
or go to the next Edinburgh location:

Canongate Church.


---
Where else would you like to go in Scotland?