Scottish Castles Photo Library
- Tolquhon Castle, Pitmedden, Aberdeenshire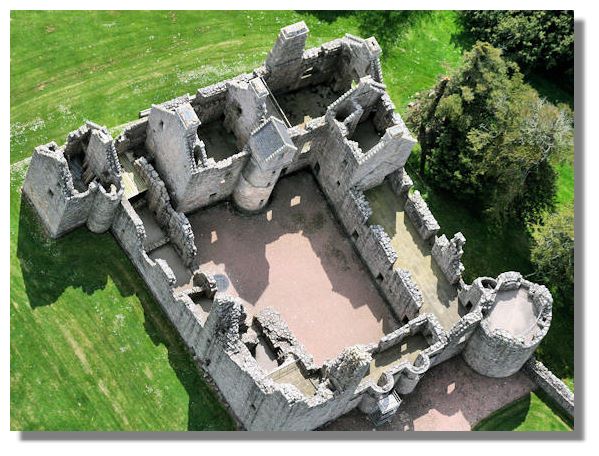 Photograph courtesy of the Scotavia> © Web site.
The oldest part of Tolquhon Castle (pronounced "toh-hon") is the stump of an early 15th-century tower house, probably built by one of the Prestons of Formartine, who once held the barony. In 1420, the castle passed to Sir John Forbes on his marriage to Marjorie, the younger daughter of Sir Henry Preston. The Preston Tower, which still forms part of the building, was probably built by this couple. However, much of the castle we see today was built by Sir William Forbes, 7th Lord of Tolquhon. In 1584, he began a major rebuilding programme. Six years later, William and his spouse, Elizabeth, had a house that was amongst the finest of its day. William Forbesís architect, Thomas Leiper, had dispensed with the more traditional tower-house design and instead he adopted the idea of a rectangular, three-storey residential block complemented by other ranges of buildings grouped around a central courtyard. This arrangement provided the lord and lady with a more horizontal form of living than was achievable in the old tower house. Once the building was completed, King James VI visited Sir William in his new abode.

In 1651, Alexander, the 10th laird, was knighted for saving the life of King Charles II at the Battle of Worcester after the king's horse had been killed. The Forbes' cavalry shielded the king until he could escape on the laird's mount. Later, Alexander became bankrupt through unfortunate speculation and the estate was sold in 1716. Tolquhon Castle was later bought by the Marquis of Aberdeen and it was occupied until the middle of the 19th century. In 1929 the Marquis of Aberdeen handed the ruins over to the state and it is now looked after by Historic Scotland - see their Web page on Tolquhon Castle for opening hours.

Note: The photos of Tolquhon Castle on this page are copyright Scotavia Images who provide a quality aerial photography service for Scotland. Prints from their large online gallery are available for purchase. If you have ancestors with a Scottish Highland origin, they can provide an aerial view of the area they came from!


Photograph courtesy of Scotavia> © Web site.

Return to the Castles Photo Library Index>
or go to the next castle: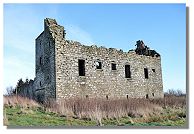 Torwood Castle.


---
Where else would you like to go in Scotland?


Where else would you like to go in Scotland?