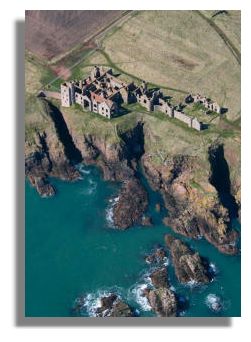 Located high above the precipitous cliffs of Buchan, to the east of Cruden Bay, 20 miles north of Aberdeen, the ruins of Slains Castle still looks impressive. "Old Slains" castle, a few miles away was destroyed by King James VI after the Hays had taken part in a rebellion in 1594. The 9th Hay Earl of Errol returned from exile in 1597 and began rebuilding and extending an original tower of Bowness, renaming it "New Slains" Castle. The Hays had owned the estate since the 14th century.

It was expanded over the years to become more of a palace than a castle, particularly in 1664 when a corridor was built within the courtyard and again in 1707 when a new frontage was added. Large extensions were also made in 1836. At one time, despite its windswept position, there were extensive gardens.

Dr Johnson and his biographer James Boswell visited Slains Castle in 1773 but it was Bram Stoker who really put the property on the map by being inspired to write his Dracula novel after staying nearby. At that time, the castle was not a ruin. Early drafts of Stoker's novel had Dracula coming ashore at Cruden Bay after his sea voyage from Transylvania. This was later changed to Whitby in Yorkshire for the final published work.

The Hays lived in regal style in Slains until they sold the castle in 1916 to a shipping line owner Sir Robert Ellerman, but by 1925 he had dismantled much of the property and he removed its roof to avoid paying taxes.

In 2007, it was announced that the ruins of Slains Castle was to be converted into holiday homes by the Slains Partnership. Bearing in mind Historic Scotland's normal negative attitude to such proposals, it will be interesting to see if it comes to pass.

Note: The photos of Cawdor Castle on this page are copyright Scotavia Images who provide a quality aerial photography service for Scotland. Prints from their large online gallery are available for purchase. If you have ancestors with a Scottish Highland origin, Scotavia can provide an aerial view of the area they came from!