Scottish Castles Photo Library
- Neidpath Castle, Peebles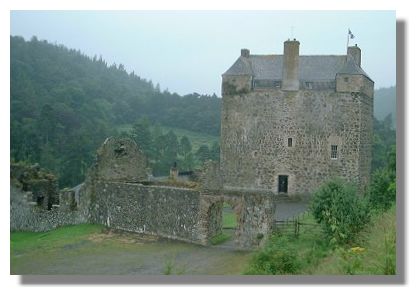 This atmospheric picture of this Border castle was taken on a damp, misty day. Which is quite appropriate as the building is associated with the ghost of the "Maid of Neidpath", who is believed to be Jean Douglas, a daughter of Sir William Douglas, Earl of March, who died when her father disapproved of her choice of prospective husband. Sir Walter Scott wrote about her.

The stone tower dates from the 14th century but has ben altered and expanded to an L-plan building over the centuries. The castle was built by the Hay family. Mary Queen of Scots visited in 1563 (not many places of note where she didn't visit) and her son, King James VI called there in 1587.

During the Civil War in the middle of the 17th century, Neidpath held out against Cromwell's army longer than anywhere else in southern Scotland.

The castle is now privately owned and is sometimes open to the public.
Return to the Castles Photo Library Index>
or go to the next castle:

Newark Castle.


---
Where else would you like to go in Scotland?


Where else would you like to go in Scotland?