Scottish Castles Photo Library
- Newark Castle, Inverclyde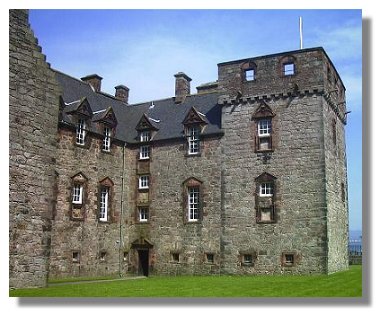 Newark Castle was built by the Maxwell family who were Lords of Newark until 1694. The oldest parts of the castle date from the 15th century and the lofty tower house and the gatehouse were built at that time. King James IV visited there in 1495. Today's visitors can climb to the top of the tower and look up and across the river.

In the 1590s Patrick Maxwell added a splendid Renaissance three-storey mansion to the tower house. The main hall has been partially furnished by the present owners, Historic Scotland, and a nice touch is to play a selection of Scots instrumental music from the Middle ages which wafts through the corridors of this part of the castle.

"New-port Glasgow" which became Port Glasgow was built on land beside the castle. Over the years shipyards were constructed and so today the castle is located beside the cranes of one of the last remaining shipyards on the Clyde!

See also Places to Visit - Newark Castle> for more information and illustrations.
Return to the Castles Photo Library Index>
or go to the next castle:

Newmilns Tower.


---
Where else would you like to go in Scotland?


Where else would you like to go in Scotland?