Scottish Castles Photo Library
- Menstrie Castle, Clackmannanshire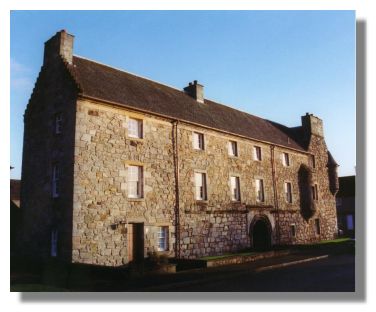 Menstrie, a small town north-east of Stirling, is in Scotland's smallest county - Clackmannanshire. The castle began as a 16th century L-plan tower house but over the years it has been considerably extended and with its large windows does not look at all like a defensive castle.

Menstrie Castle was owned by a family named Alexander who became Earls of Stirling around 1567. The 1st Earl of Stirling was responsible for establishing the Scottish colony in Nova Scotia. There is a museum within Menstrie Castle about Nova Scotia and the baronetcies which were created based in that province.

Unlike Castle Campbell, which is only a few miles away, high up in the wilds of Dollar Glen, Menstrie Castle is now surrounded by a housing estate and was only saved from destruction in the 1950s by converting many of the rooms into residential accommodation.
Return to the Castles Photo Library Index>
or go to the next castle:

Morton Castle.


---
Where else would you like to go in Scotland?


Where else would you like to go in Scotland?