Scottish Castles Photo Library
- Morton Castle, Dumfries and Galloway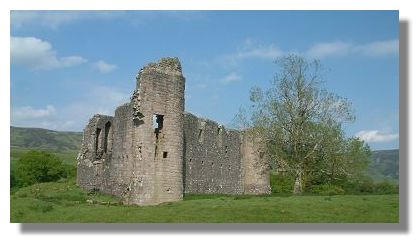 Dunegal, Lord of Nithsdale, may have had a stronghold in the 12th century on this remote promontory, overlooking a small loch. The estate then passed to the Adairs and then to Thomas Randolph, King Robert the Bruce's nephew and ally, early in the 14th century. However, as part of the Treaty of Berwick with England which led to the release of King David II in 1357 (he had been captured during the Battle of Neville's Cross by the English forces of King Edward III), a number of Scottish castles in South-West Scotland had to be destroyed - and Morton was one of them.

Of course, it was later rebuilt and in 1396 it passed to Sir James Douglas, the 1st Earl of Morton. In the middle of the 15th century, however, it passed to a junior branch of the family. The Castle was briefly owned by the Lords Maxwell in the 1580s. Later, it was acquired by the Dukes of Queensberry; through inter-marriage, it then passed to the Dukes of Buccleuch.

The castle had walls 8/10 feet thick enclosing a two-storey hall, two circular towers and large gatehouse with heavy doors and a portcullis. This was an impressive structure, though only one side of it still survives. It was occupied until the early 18th century and is now looked after by Historic Scotland.

Perhaps the most impressive element of Morton Castle today is its setting above the loch and the Lowther Hills behind.
Return to the Castles Photo Library Index>
or go to the next castle:

Mugdock Castle.


---
Where else would you like to go in Scotland?


Where else would you like to go in Scotland?