Robert the Bruce appointed Sir Gilbert Hay of Erroll as Lord High Constable of Scotland in 1324 and a branch of that family, the Hays of Leys, was established at Megginch Castle in the Carse of Gowrie, just off the main road between Perth and Dundee. By 1452, the family had been raised to the titles of the Earls of Erroll.

An original tower house dates back to the 15th century and a stair tower and block of the castle were built before 1460. A 16th century wing is dated 1575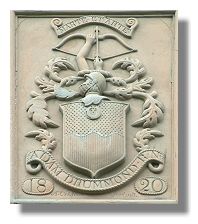 In 1664, the property was sold to a branch of the Drummond family, who was 8th Lord Lennoch, Hereditary Seneschal of Strathearn. His descendants still live in the castle. The 3rd Drummond of Megginch was the first Member of Parliament for Perthshire in the first UK parliament after the Act of Union in 1707.
The castle had another wing added by Robert Adam in 1790 and other additions were made in 1820 and 1928. A carved crest on a wall is refers to the 1820 work (see illustration).
A fire in 1969 destroyed the 18th and 19th century wings but these were totally restored. When the fire engine arrived to put out the blaze a forgotten brick-vaulted passage under the drive collapsed under the weight of the vehicle.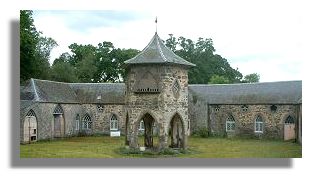 The castle is home to an unusual collection of stuffed British birds created in the 1840s by a member of the Drummond family. There is an ornate dovecot in a stable courtyard.
The castle gardens have a physic garden, a 16th century rose-garden, an astrological garden, a long herbaceous border inside a walled garden, topiary and yew trees believed to be 1,000 years old. The landscape was laid out in the early 19th century and the Terrace Garden dates from 1830.
The gardens are sometimes opened to the public but dates of opening are somewhat uncertain. In 2005 the gardens had become somewhat overgrown with weeds and the castle itself looked in need of repair.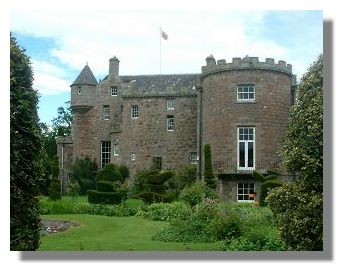 In recent years, the castle has been the home of Baroness Strange and her husband Captain Drummond. The Strange Barony had been created by Charles I in 1627 but passed to the Dukes of Atholl, to whom the Drummonds were distantly related. The barony went into abeyance but was claimed after a long legal battle by Baroness Strange's father. She was one of only 90 hereditary peers to survive in the House of Lords restructuring and this redoubtable lady not only brought to that chamber a lot of common sense to issues but also armfuls of fresh flowers from her garden at Megginch. Lady Strange passed away in March 2005.
In 1994, the castle was used as one of the locations for the film "Rob Roy". Historically, Rob Roy was imprisoned in Perth Tolbooth by the Drummond resident at Megginch at the time.