Scottish Castles Photo Library
- Macduff's Castle, Fife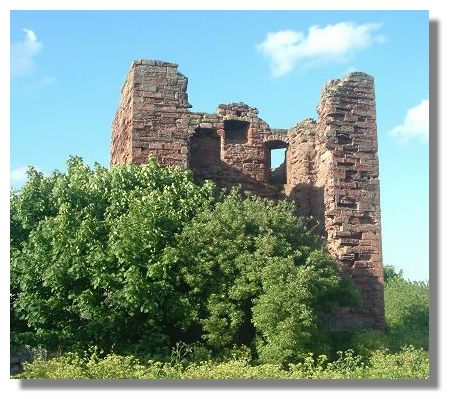 It is thought that a castle may have been built here by the MacDuff Thanes (or Earls) of Fife in the 11th century, at the time of Macbeth. The present castle was built by the Wemyss family in the 14th century. Edward I of England paid a visit here in 1304, staying with MacDuff's descendant, Michael Wemyss. However, Wemyss later joined forces with Robert the Bruce and Edward ordered the castle to be destroyed.

After the Wemyss family moved to nearby Wemyss Castle, it passed to the Livingstones and then in 1530 it was taken over by the Colvilles who built a second tower in the south-west corner and an enclosed courtyard. It is that second tower which still survives.

Its present ruinous state is not just due to the fact that it has been unoccupied for several hundred years. The sandstone used in its construction has weathered very badly and resulted in pitted exterior stonework.

The castle, which is now owned by Historic Scotland, is supposedly haunted by a "Grey Lady", said to be a Mary Sibbald who was found guilty of theft and died in the castle.



Return to the Castles Photo Library Index>
or go to the next castle:

MacLellan Castle.


---
Where else would you like to go in Scotland?


Where else would you like to go in Scotland?