These days, Lochmaben lies to the west of Lockerbie and the motorway that links England with Scotland's central belt, including Glasgow and Edinburgh. 1,000 years ago, Lochmaben was in an important strategic position as travellers (or invading armies from the south) had to travel along a similar route up Annandale. But because of forests and marshes, they had to pass Lochmaben.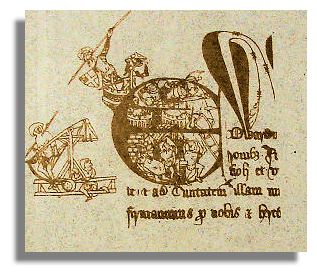 In the 12th century, the Brus family were lords of Annandale (although they also had estates in Huntingdon in England and later in Carrick in Ayrshire through marriage. In those days, their main seat was at Annan but by 1166 they had moved to a motte-castle near to the site of the present building.
It has been suggested that King Robert the Bruce was born in 1274 at this original Lochmaben Castle, though Turnberry Castle seems to have a slightly better claim - his mother was Marjorie, Countess of Carrick, daughter of Niall, Earl of Carrick.
King Edward I of England built a new castle on a stronger position at Lochmaben and this was the basis of the present, very ruined, building. Initially the English just built an earth and timber "peel" or palisade, rather than a stone castle. Ownership swung backwards and forwards during the War of Independence. Robert the Bruce's father failed to capture it in 1299 but the Scots burnt it down in 1301. It was retaken by King Edward of England's eldest son, the Prince of Wales. By 1333 it was back in Scottish control but soon after was over-run by the English and was held by them for the next 50 years.
Being such an early castle, one of the first things that strikes you when you see it is that it is constructed from simple stones held together by mortar. There are no dressed stones carved to provide a flat exterior - just the basic rocks that just happened to come to hand while it was being built. The great stone frontage, a drawbridge pit and wing walls still survive.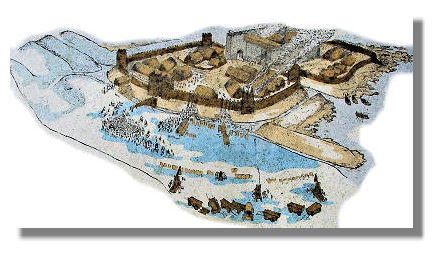 Lochmaben was eventually captured in 1385 by Archibald the Grim, the Douglas Lord of Galloway. The graphic on the right (above) shows a drawing from those days with stone-throwing catapults attempting to overwhelm the occupants! The graphic on the left shows an artist's impression of how Lochmaben would have looked with the Scots attacking it.
The castle later became owned by the king of Scotland after he brought down the Douglases for being too powerful. King James IV carried out extensive repairs in the 1490s and built a great hall. Lochmaben was occupied by the Maxwells and in 1588 King James VI had to lay siege to it to establish his control of the area. The castle was then abandoned in the 17th century and was allowed to fall into disrepair.