Scottish Castles Photo Library
- Elcho Castle, Perthshire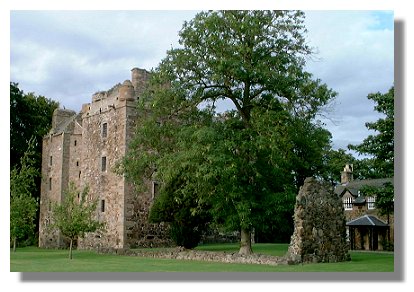 Elcho Castle is located on a rocky knoll overlooking the river Tay and there may have been a castle here from as early as the 13th century (William Wallace is said to have sheltered there) but nothing remains of this early building.

The Wemyss (pronounced "Weems") family held the estate from 1468 and the present tower house was built in the 16th century, probably by Sir John Wemyss who died in 1572. The round tower bears the initials "E.I.W." which may refer to Earl John Wemyss who was the laird from 1622 to 1649 and became Lord of Elcho and Earl of Wemyss in 1633.

The castle had fallen into decay but it was re-roofed in 1830 and is in a surprisingly good state of repair. The central block has four towers (two round and two square). The stairs take you by several routes to the battlements at the top of the tower where you can get a great view of the river Tay estuary and back up towards Perth.

See also Places to Visit - Elcho Castle> for more information and illustrations.
Return to the Castles Photo Library Index>
or go to the next castle:

Fast Castle.


---
Where else would you like to go in Scotland?


Where else would you like to go in Scotland?