Perched on a cliff overlooking the North Sea, Fast Castle is a romantic place to visit and repays the walk to reach it across the moorland from the nearest road. Nowadays, it is the first castle of any note off the main road from England to Edinburgh and perhaps for that reason (and its wild location) seems to attract more vistors than might otherwise be the case.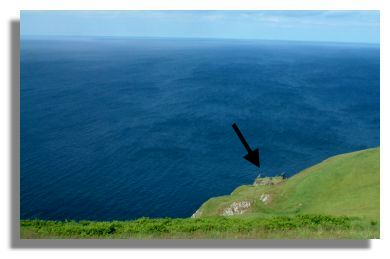 Fast Castle was built as a keep (stone tower) with a courtyard and a drawbridge over a deep chasm. It is first mentioned in documents in 1333. Being so near to the Scottish / English border, it was a prime target for any invading force from the south. It was captured by the English in 1346 after the Battle of Neville Cross (during which King David II of Scotland was captured by the English King Edward III). It was not retaken until 1410, when the son of the Earl of Dunbar recaptured it in a surprise attack.
The castle was rebuilt by the Homes in 1521 but was retaken by the English in 1547 during the "Rough Wooing" prompted by demands by Henry VIII that his son, the future Edward VI of England (aged 10) should marry Mary Queen of Scots (aged 5), a proposition rejected by the Scottish Parliament. Mary Queen of Scots later stayed at Fast Castle (there are few castles she didn't visit during her rein).
The castle passed to the Logans of Restalrig by marriage but after their involvement in the Gowrie conspiracy in 1582 (when James VI (aged nearly 8) was abducted and taken to the Castle of Ruthven by the Earls of Mar and Gowrie) the castle was forfeited and became ruinous.
The Douglases bought the castle in 1602 but then passed through a series of owners including the Arnotts and the Homes. It may have been further damaged by lightning in 1871.
Sir Walter Scott used the setting of Fast Castle in his novel "Bride of Lammermoor" calling it "Wolf's Crag". A cave below the castle is reputed to have been used by smugglers.