Spectacular Dunbeath Castle, perched on a high cliff jutting out into the sea, is 20 miles south of Wick, in the north-east of Scotland. It is approached by means of a long, tree-lined avenue, off the A9 road between Wick and Brora. The earliest reference to a fortification there goes back to 1428, when the estate belonged to the Earl of Caithness.

Dunbeath then passed to the Innes family but in 1529 became part of the estates of the Sinclairs when Alexander Sinclair of Starminster, a younger son of the 2nd Earl of Caithness, married the heiress, Elizabeth Innes. For a time, the barony of Dunbeath was taken over by Lord Forbes, but John Sinclair of Geanies repurchased the property around 1624. It was probably John who extensively remodelled Dunbeath castle and built the upper storeys in the 1630s.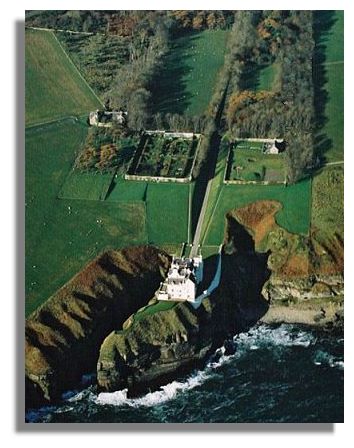 When the Marquis of Montrose made a final, desperate effort on behalf of King Charles II in 1650 and landed in the north-east of Scotland, he took Dunbeath Castle after a siege of only a few days. After the defeat at Carbisdale, the small garrison Montrose had left in the castle were forced to surrender after a short siege when they ran out of water.
Further modifications to Dunbeath were made in 1853 and 1881, as the castle remained in the hands of the Sinclair family. Some of the buildings still bear the Sinclair crest. However, in 1945, after 320 years, the castle was sold by the late Admiral Sir Edwyn Alexander-Sinclair to an American, Stuart Avery.
In 1995, on Avery's death, it was sold again, this time to a Scot. It remains a private residence although Dunbeath Estate has a total of 12 lodges and cottages which are available to rent.
Note: The photos of Dunbeath Castle on this page are copyright Scotavia Images who provide a quality aerial photography service for Scotland. Prints from their large online gallery are available for purchase. If you have ancestors with a Scottish Highland origin, they can provide an aerial view of the area they came from!