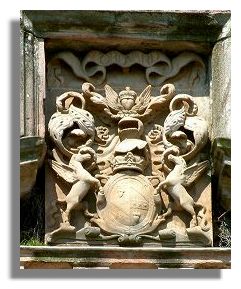 Although parts of an original 14th century castle have been incorporated, the present Drumlanrig Castle was created as a mansion in the 17th century, by which time defensive ramparts had given way to comfortable living and large, airy windows.

The original castle was built in the middle of the 14th century by the Douglases. Sir James Douglas (known also as "The Good" or "Black Douglas") was a right-hand man of Robert the Bruce. He was entrusted with carrying Bruce's heart to the Holy Land but was killed in a battle with the Moors in Spain while on the way. To this day, the coat of arms contains a winged heart surmounted by Bruce's crown (see graphic on the right).

Drumlanrig is built of local pink sandstone on a hill (Drum) at the end of a long (lang) ridge (rig) overlooking the Nithsdale Hills. It was rebuilt with a central courtyard and was in a good enough state to receive King James VI on his visit to Scotland in 1617.

Between 1679 and 1691, William Douglas, the 3rd Earl of Queensberry (he became 1st Duke of Queensberry in 1684) built a new, large mansion, following the courtyard layout. Despite almost bankrupting himself as a result of creating his new home, the Duke spent only one night in the building, decided he didn't like it - and returned to Sanquhar Castle! His son, however, moved in after inheriting the title and estates. Bonnie Prince Charlie spent a night there on his retreat from Derby.

After being allowed to become derelict in the 18th century, it passed to the Duke of Buccleuch, head of the Scott family, in 1810, following a merger of the Douglas and Scott dynasties. The castle was restored in 1827 and is still the Dumfriesshire home of the Duke of Buccleuch and Queensberry. It is now a major tourist attraction in the area.

The graphic below shows the south front of the castle with its steps to the dining room, installed around 1680.